About Horizon Technologies Inc.
Horizon Technologies is a Staffing Services company providing a gamut of Staffing Services to various businesses and organizations, helping them improve their business performance through cutting-edge technologies. Horizon was formed with the express purpose to better serve clients with effective alternatives to traditional IT services that will leverage global resources, talent, and technology. Horizon's goal is to be a key partner to customers by providing reliability and quality in an offshore environment.
Methodology
As an Staffing Company providing solutions, Horizon delivers outsourced services with transparency and superior quality by applying proven processes and methodologies. With Horizon you are assured of a trusted strategic partner that empowers you by aligning technology expertise with your vision to enable you to build your organizational relationships.
Quality Staffing Services
Horizon was amongst pioneers in the staffing services and has since established an impeccable delivery record with satisfied customers. Horizon has over the years developed processes and capabilities to service customers ranging from global organizations to companies that are in the start-up phase. Today, with world-class processes, infrastructure and experience, Horizon offers its clients unmatched capability to reduce total costs, leverage cutting-edge skills, reduce time-to-market and optimize end-to-end product development.
As a full life-cycle solution provider, Horizon is able to deliver organizational solutions - from conception to implementation and from maintenance to enhancements.


Horizon Technologies Inc. certified by E-Verify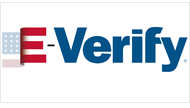 Horizon Technologies Inc certified by E-Verify, the U.S. Department of Homeland Security's electronic employment eligibility verification system, A top-rated applicant tracking system integrates with Federal program.
E-Verify (formerly known as the Basic Pilot/Employment Eligibility Verification Program) is an internet-based system operated by the Department of Homeland Security in partnership with the Social Security Administration. The system allows employers to electronically verify a new employee's name, date of birth, and social security number, along with validating immigration information for non-citizens, against Federal database records in order to verify an individual's identity and employment eligibility.The voluntary Federal program is already mandated for employers in some States, including Arizona, where SmartSearch supports a number of clients subject to the E-Verification of candidates' eligibility to work in the United States.
The Horizon Technologies integration with the E-Verify system further streamlines hiring, and provides results in seconds. This new functionality helps employers maintain a legal workforce, improves the accuracy of wage and tax reporting, and virtually eliminates Social Security mismatches.